About Route5 Construction Services
Route5 is nationwide building and development consultancy based in Leicestershire, heart of the Midlands, specialising in construction consultancy and quantity surveying.
Our individual specialists combine to ensure that whether you require one or multiple of our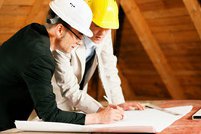 services you receive an efficient solution to your building/development requirements. We offer a range of services including quantity surveying, estimating/cost consultants, project management, energy/SAP calculations and party wall surveying.

Whilst we are experienced qualified specialists in the various fields we can offer more than individual specialists. We understand how each element affects the overall project and importantly we are able to use our Cost Consultancy experience to offer deliverable cost efficient solutions to every element.
Company Director Eddie Bakewell has 30 years experience in all fields we operate in and the team of specialist consultants that work with him have over 100 years experience between them. We also have contacts across the spectrum both in experience and geographically. We are therefore confident that we can help with any aspects of your project no matter where it is in the country.
Contact Us for more information

For more information regarding our services contact our Construction Consultants today. Call us direct on 07912 120 052 or fill out our online enquiry form and we'll get back to you as soon as possible.